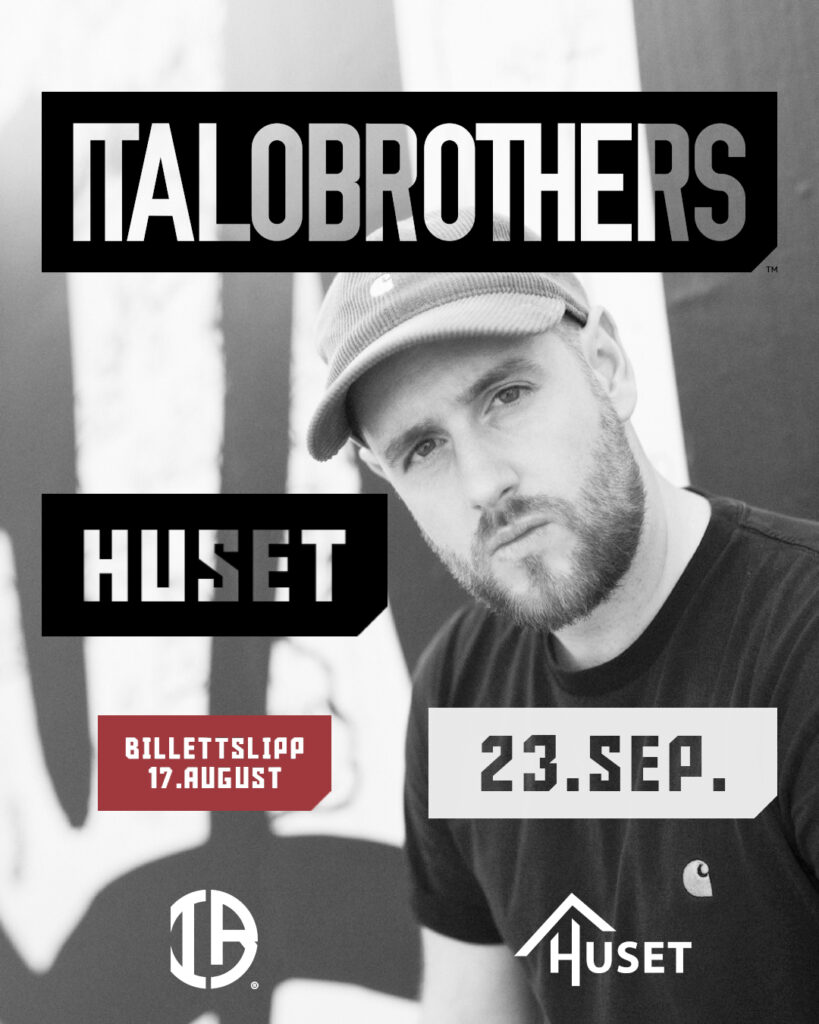 [ English below * ]
Dra på deg danseskoene og 2000-tallsantrekket for 23. september kommer ItaloBrothers til Gjøvik og har en helt ekstatisk konsert på Huset!

Konserten er innendørs og det er derfor færre billetter, så ikke nøl for lenge
Billetter: https://tikkio.com/tickets/31544-italobrothers-huset-gjovik

Vi kan ikke vente med å være host for ItaloBrothers dette blir konge!
Dørene åpner: 22:00
Konsert: xx:xx
Konserten har en aldersgrense på 18 år.
Husk å ta med studentbevis ved kjøp av studentbillett!
ItaloBrothers er en tysk EDM-artist med mange sanger du definitivt har hørt
På slutten av 2005 førte rå energi, rent talent og en brennende lidenskap for musikk sammen produsent Christian Müller og sangeren Mathias Metten. Deres unike stil kombinerer fengende melodier og tunge basslinjer med drivende, rytmiske beats.
I 2009 fikk ItaloBrothers sitt gjennombrudd med den globale suksessen til sangen deres 'Stamp on the Ground', som umiddelbart gikk inn på topp 20 i Norge, Danmark og Tyskland. I tillegg har musikkvideoen fått 110 millioner streams til dags dato, noe som gjør den til en av de mest suksessrike tyske YouTube-videoene noen sinne. To år etter den første utgivelsen ble singelen også kåret til 2011s 'Song of the Year' i Norge og ble til slutt platinasertifisert i flere land med over 150 millioner kombinerte streams på alle plattformer.
Suksesshistorien deres fortsetter med flere prisbelønte sanger som 2012s "My Life Is A Party" og det påfølgende årets "This Is Nightlife".
Deres nyere utgivelse «Down For The Ride» har mer enn 24 millioner streams på Spotify. Enten hjemme, i bilen eller på stranden – "Down For The Ride" kombinerer alle egenskapene som gjør ItaloBrothers og musikken deres unik: fengende riff og bass drop som gjør at det virker umulig å holde stille.

*
Put on your dancing shoes and your 2000s outfit because on 23 September ItaloBrothers comes to Gjøvik and will have one hell of a concert at Huset!

The concert will be indoors and therefore there's fewer tickets, so don't hesitate too long

We just can't wait to host this incredible artist!
Doors open: 22:00
Concert: xx:xx
Tickets: https://tikkio.com/tickets/31544-italobrothers-huset-gjovik
The concert has an age limit of 18 years old.
Remember to bring your student ID when buying a student ticket!
ItaloBrothers is a German EDM artist with many songs you definitely have heard
At the tail end of 2005, raw energy, sheer talent, and a fervid passion for music brought producer Christian Müller and singer Mathias Metten together. Their unique style combines catchy melodies and heavy basslines with driving, rhythmic beats.
In 2009, ItaloBrothers had their breakthrough with the global success of their track 'Stamp on the Ground', which immediately entered the Top 20 in Norway, Denmark, and Germany. Additionally, the accompanying music video has gone on to impressively garner an incredible 110 million streams to-date, making it one of the most successful German YouTube videos of all time. Two years after its initial release, the single was also voted 2011's 'Song of the Year' in Norway and would eventually go on to be platinum-certified in several countries with over 150 million combined streams across all platforms.
Their success story continues with multiple awarded songs such as 2012's 'My Life Is A Party' and the following year's 'This Is Nightlife'.
Their more recent release "Down For The Ride" has more than 24 million streams on Spotify. Whether at home, in the car or at the beach – "Down For The Ride" combines all the qualities that make ItaloBrothers and their music unique: mesmerizing hooklines and a bass drops, that make it seem impossible to hold still.