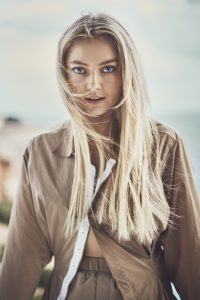 Selveste Astrid S kommer på HUSET torsdag 16.november!
Samle venner og familie, og kom innom for en fantastisk konsert du sent vil glemme.
Billetter slippes ut fredag 9. juni kl. 10:00
18 års aldersgrense
Dørene åpner kl. 21:00
Billettpris: 295,- / 395,-  student/ordinær
Astrid S – Biography
Growing up in the small town of Berkåk, Norway with less than 1,000 people and long cold winters, Astrid S was drawn to music at an early age. She started playing piano when she was only 6 years old and began singing and writing songs as a young teenager. After releasing her first single "2AM", the Norwegian indie-pop darling has been making waves as a performing artist, singer and songwriter all over the world. The 19 year old has reached 5x Platinum status in Norway on "2AM," has had almost 100 million worldwide streams on Spotify, sold out her first Norwegian club tour and has been officially remixed by the hot producer Matoma, amongst others. Additionally, Astrid was recently named a Spotify Nordic Spotlight Artist for 2016 as well as "Norway's next great pop export" by NYLON Magazine. Last fall, Astrid S released her new solo track "Hyde" produced by the raging popular Lido (The Weeknd, AltJ, Bastille, Banks) and co-produced by the Swedish duo Cal Maui & Blisse. The track was premiered on Fader Magazine and represents the first new music from Astrid S since her debut hit single "2AM" and her appearance on Avicii's July 2015 "Waiting For Love" remix EP. Last fall she won her first MTV EMA award as Best Norwegian Act, got two out of four awards at P3 Gull, and was nominated for Best Song ("2AM") at the Norwegian Grammy Awards. During the winter, she has been working on finalizing her highly anticipated debut EP, which is due out this spring. Meanwhile, the latest single, Matoma x Astrid S – "Running Out," is picking up traction across the world and will soon hit 30 million streams on Spotify alone.